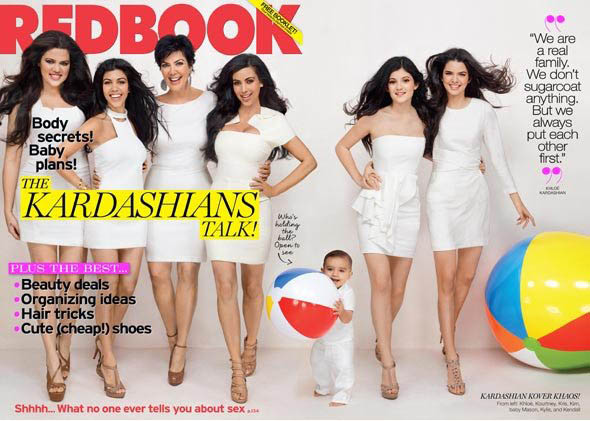 Kris Jenner and her three oldest daughters are on the cover of Redbook magazine. In the accompanying interview, Kris makes a bunch of snotty comments trying to refute the criticism about her family: that they don't work and that they have no talent. She gets indignant about it, forgets the number of hours in a day and then acts like her "girls" are better than the rest of us who either chose not to get
bikini waxes
and
Botox on camera
or just haven't had the opportunity.
Make no mistake: The Kardashians didn't earn
$65 million last year by sitting on their famous derrieres.
PHOTOS: Kim's best booty moments
"It's annoying when I hear, 'What do your girls do?' Well, first of all, all of my daughters have jobs. They are fashion stylists and designers; they own a chain of stores. They had the stores before they had the show," matriarch Kris Jenner, 55, tells the May issue of Redbook. "And my kids worked from the time they were 13 years old. So to me, that's a huge misconception that the girls don't work. They work 25 hours a day."
As for criticism that her famous daughters lack any talent? "They might not be singers or dancers, but they certainly know how to produce a television show," Jenner says. "Whether you want to call it talent or not, they have multiple shows on the air. How many shows do you have?"
Part of their family's appeal, Khloe notes, is that they aren't afraid to be themselves.
"We are a real family. We don't sugarcoat anything. We're not the Brady Bunch, but we always put each other first," Khloe Kardashian, 26, says. "We love each other on camera, we cry on camera. I think people relate to the realness of it."
Kim Kardashian, 30, insists there isn't much to hide anyway. "There's nothing I'm really ashamed of, and I work hard on the show and all my other projects," she tells the mag. "I don't drink or do drugs, so I'm comfortable showing the world what my life is all about."
Despite their individual struggles — Khloe's pressure to have a baby, Kourtney Kardashian's rocky relationship with Scott Disick, and Kim's struggle with plastic surgery rumors — Kris insists her family is stronger than ever.
"Our joy in life is that we always have each other," she says. "So I've tried to teach my kids three things: love God, love your family and love yourself."
For more Kardashian revelations and photos, visit Redbook.
[From
US Weekly
]
It was surprising to me to read that Kris Jenner tells her kids to love God because I don't remember hearing that the Kardashians are particularly religious. I googled "Kardashians church" and was reminded of this story about how
Kim gives 10% of her salary to a church
that Kris founded. So when Kris teaches her kids to revere God she's also teaching them to give even more of their earnings to her tax shelter.
Now we know what Kris Jenner thinks of any of her family's fans that dare question them - they're not rich and famous so they're not qualified to ask what it is they do exactly. We're just peons buying the crap that her daughters work "25 hours a day" to stick their name on. Everyone who doesn't like them is just jealous, right?